Healthcare Advocate Profile
Learn More About this Valuable Professional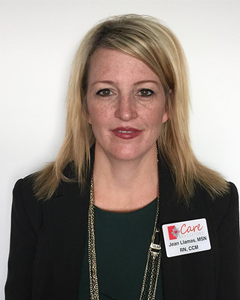 Jean M. Llamas
| Care Navigators
MSN, RN, CCM, ACM
How I Can Help
I provide an assortment of advocacy related service in a variety of areas on behalf of many different types of people in all types of circumstances. 
Formal Education
Benedictine University Master's Degree- Nursing Administration 2005 – 2006
Northern Illinois University – BSN-2009
Why I Became A Professional Healthcare Advocate
Over the course of 20 years, I witnessed first-hand from a number of different professional and personal viewpoints the fragmentation of the healthcare system and the difficulties in putting together the pieces of each patient's healthcare puzzle
Professional Organizations And Affiliations
CCM Dec 2013 – Present
Commission for Case Manager Certification (CCMC) NCG Dec 2016 – Present
Center for Guardianship Center for Certification, Milliman – May 2014 – Present
ACM-RN Milliman May 2015 – Present
American Case Management Association (ACMA)
Contact Advocate
To contact this advocate call (847) 250-1829 or simply fill out the form below
Privacy: In accordance with the Health Insurance Portability and Accountability Act of 1996, as amended (HIPAA), Greater Chicago Advocates is not a covered entity. To protect yourself from disclosure of protected health information (PHI), please refrain from sending any sensitive health related information via email.
Disclaimer: GCA is not a provider of advocacy services or legal services. The advocates listed in the GCA directory are not employees or agents of GCA.  GCA does not control any aspect of any service provided by any of these advocates.  The advocates listed in the GCA directory are not paid by GCA and none of the advocates has paid anything to GCA to be listed in the directory.  GCA merely compiled information about these advocates and received permission from each advocate to be listed in the directory.
The GCA website is intended to be a source for information about patient advocacy and those who provide advocacy services. While GCA strives to provide users with accurate credentials for the service providers featured on the website, GCA does not endorse or warrant the competence of any advocates listed on the site.  The information on this website is not, nor is it intended to be, medical or legal advice. The information on this website is not intended to treat, diagnose, cure, or in any way replace medical advice from your physician.  Use of the GCA website indicates your understanding and acceptance of these terms and conditions.